Join Terri O'Fallon's 12-Month Immersive Group Experience:
The Mind's I.
See How Your Life Experiences Have Shaped You, Understand Your Influence On Those Around You, and Make Peace With The Evolving Being That You Are.
A rare opportunity to work intimately with STAGES founder Terri O'Fallon, supported by Kimberley Lafferty.
 

This year's cohort has begun. Check back for the next opening.
DONATE to the MIND'S I SCHOLARSHIP FUND
and support us in making this course accessible to all!
Thank you for your support!
Welcome to this 12-month developmental stage and state journey.
An immersive, hands-on group experience that will enable you to understand the factors that shape you in terms of developmental states and stages. You will work with others on a journey of self-exploration, expanded awareness, and possibly deep healing. The STAGES model helps us understand others we interact with, and the cultural patterns driving our world. The course includes a personal developmental assessment process scored and debriefed by Terri.
Listen to what past participants say about the course HERE and HERE.
T

hrough this course you may:
Come to deeply understand your own life journey–where you've been, where you are, and where you're going–as an unfolding evolutionary process, which is both fully unique and deeply universal.

Recognize and overcome persistent obstacles that might be blocking your development, healing or awakening.

Learn along with a cohort of like-minded, like-souled people, experiencing the collective intelligence emerging from a unique and generative group.

Discover personal and intergenerational trauma from the past, and explore ways to heal

Understand how the connection with something greater than ourselves, or the lack of it, impacts us at every stage of our life journey.

Explore and deepen your connection with all of your relations.

Understand experientially how esoteric and cognitive states interact with developmental stages in human evolution.

For an entire year, work directly with one of the most prominent living researchers in adult development, Terri O'Fallon (supported by Kimberly Lafferty).
Mind's I Scholarship Fund
We have received an unprecedented number of scholarship applications this year, and are fundraising in an effort to make the course accessible to a diversity of participants. 

Any amount helps! We hope to raise enough to offer a few additional scholarship positions. We so appreciate your support. 
What is the STAGES model?
Who should take this course?
Requirements: To participate fully in the course you will need to have learned something about the STAGES model. If you have not already taken at least two STAGES courses, you can satisfy this requirement by completing our two self-paced online courses within one month of the start of the course (November 7): The Three Questions and Developmental Gifts & Confusions.

Spend some time with Terri and Kimberley, joined by Mind's I grads, as they discuss the Mind's I course and answer questions in the recording of a recent live Q&A below.
How does our developmental journey interpenetrate with our spiritual journey throughout our lives?
The developmental confusions and transformations you experience impact the evolving identity of Who You Are. You may not be aware that you are on a continual spiraling process of experiencing states, which develop into confusions, into maturity, into turning the stage back on itself to find the next stage.
The Mind's I experience is a personal development journey that helps you discover yourself at each stage and the states required for the stage to mature. When transformations occur, you'll learn how confusion arises, propelling you into maturity. When you apply that perspective in your life, you can eventually turn the stage back on itself and start the spiraling process all over again. This is the essence of developmental growth.
Your developmental journey, and the patterns within that journey, will become clear. You'll see how you have been shaped and how you shape others.
This process may prompt you to examine the relationships between states and stages with questions such as:
◦ Can we access the full maturity of our connection with something greater than ourselves at earlier developmental levels? If so, could this stop our developmental growth?
◦ Can we pass through our full developmental journey without full state maturity? If so, what does this do to our connection to something greater than ourselves?
◦ Is the balance between stage development and state development relevant or desirable?
◦ How can we consciously fashion our life's journey by examining both of these paths and how they have manifested in our lives so far?
Why is it important that you have completed previous courses?
To maintain the group's integrity, all members of the select cohort need to have a prior understanding of the STAGES Matrix and the developmental confusions. In addition, the course can be challenging, and it's important that you already have some grounding in STAGES work.
We ask that you have an openness to engaging personally and vulnerably with peers and a willingness to examine all aspects of one's developmental life and experienced states.
This course has been a deeply healing, transformative and revelatory journey for me. It's been a blessing to reconstruct a sense of "who am I?" by interviewing my family, friends and personal memory of life thus far. The STAGES model has provided an illuminating map that's helped me to understand some of the key moments in my life in a way that I've never considered before, and with this has come a deep sense of healing, compassion and self-love. The intimacy and access to Terri has been a true blessing. Thank you to the entire STAGES team for offering this beautiful course!
Tucker W.
Mind's I participant
The Mind's I course is a profound practice in vertical development. I have been studying the STAGES model for several years now and had a decent cognitive understanding of it, but now my understanding has become a lived one. The course has allowed me to overcome some very persistent brick walls that have been blocking my development. That, combined with access to Terri's expertise and unwavering generosity of spirit, provided an ideal pathway to growth. [I and others in my study group also] gained remarkable insights from our new perspectives on how the trajectory of our lives intertwines with the larger cultural and generational patterns. The whole process has been enormously freeing. I am forever grateful. – .
Isabelle G.
Mind's I participant
Terri's work brings the opportunity to appreciate the stages of ego development in a different register – beyond the usual cognitive way of knowing, Terri puts within our reach a heart and body sense, of our individual and universal becoming, in STAGES, a way to connect in which is at once accessible, and expansive.
The Course Intentions
This 12-month immersive group experience beginning in September 2023 takes a comprehensive look at your life thus far, intricately assessing all parts of your history. Alongside gaining a profound knowledge of yourself as an ever-evolving being, the course has three main intentions:
Examine your life stages from birth and develop insights with a cohort of others.
Discern if gaps exist in each of your developmental stages and experiences, and develop practices to heal them.
Contribute to the evolution of our understanding of how states and stages unfold together in our experience.
The Monthly Schedule
Over 12 months, you will spend one month on each developmental level, giving you a detailed exploration of stages 1.0 through 6.5.
Each month will follow the same structure, as outlined below.
Week 1
During the first week of each month, you will have a 2-hour session with the instructor and group, which is embodied and interactive. In this session, we will review the past month's learnings and introduce next month's assignments and learnings. You'll begin research for your autobiographical chapter for the month.
Week 2
During week 2, you will write a stage chapter of your autobiography. You will gather inspiration for the chapter from interviewing those who know you, checking out the contexts that have shaped you, including friends; neighbors; church activity; videos, audio, and pictures of yourself; your memories, etc.
Week 3
During week 3, you will share your initial autobiography chapter with a partner--giving and receiving feedback and doing any necessary rewrites. There will also be a live 1.5 hour Q&A session.
Week 4
In the last week of the month, you will share your work in a foursome group and notice the similarities and differences. You'll look to see if you can find principles that work, and you'll also read the chapter about the developmental level research for the next month.
Behind this course is a deep intention for you all to experience the blessings of your life and where it has led you, whatever your experiences are; to participate in any healing that may need to occur in the continued creation of all healthy stages; and to support a pattern of continued healthy development both in states and stages as your life's journey continues.
About Terri O'Fallon
Terri O'Fallon is a researcher, teacher, coach, spiritual director, and designer of transformative containers committed to ongoing research on the integral STAGES developmental model.
Terri is a founder of STAGES International, which creates programs based on the STAGES model. Terri holds a master's degree in Special Education in Spiritual direction and an Integral Ph.D. in Transformative Learning and Change. She is internationally recognized as a leader in developmental theory and has taught classes and given conference presentations on the STAGES model worldwide.
About Kimberley Lafferty
Kimberley Theresa Lafferty is a seasoned teacher-practitioner specializing in constructive developmental psychology and spirituality. She leads multi-year, private spiritual education cohorts with the Confluence Experience. Kimberley co-leads, with Terri O'Fallon, the second Mind's I year-long developmental course of Stages International. She is an active Board member for the Association for Spiritual Integrity. Kimberley is also a wife and mother to a young son, living in a remote valley of the North Cascades of North America which deeply impacts her worldview and practice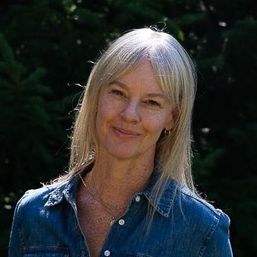 How much does the 12-month program cost?
Do you offer payment plans?